Online Group Spanish Classes For TK-12 Students
Learn Spanish from the safety and comfort of your home with a certified instructor you can trust. 
Online Group Spanish Classes
Your child will enjoy:
Engaged language learning
Small groups promote fun and peer collaboration and engagement. Hear your child start speaking Spanish on day 1!

Expert Spanish instructors
My Spanish Journey instructors are native Spanish speakers, certified in immersive methods to deliver results fast.

Students work towards fluency in speaking, reading, and writing being appropriately challenged through our unique 6 level progression.
Why My Spanish Journey Group Classes Work
In Spanish - Our small group format enables teachers to focus on individual student needs to get them speaking Spanish quickly.
Specific language skills your student will learn each year they participate in our group classes. This includes grammar, vocabulary, conversational practice, reading and writing skills, and cultural awareness.
Students - Your child can join thousands of successful Spanish speaking students.
Class Options
Something for Every Age and Stage
For Ages 2-4.5
Mommy & Me
For Ages 4-13
Spanish 1-5
For Jr. High School and High School
High School
For Ages 2-4.5
Mommy & Me
Have fun with your toddler and learn Spanish at the same time!
Mommy & Me Spanish is the perfect opportunity to expose your toddler to a second language at the height of the "language learning window."
Parents get into action with their child and engage learning Spanish as well! It's truly a family experience! Our teachers will lead you in a special language learning experience using visual, auditory and tactile Spanish learning activities together with the My Spanish Journey immersive teaching method (teaching Spanish in Spanish, without translation).
For Ages 4-12
Spanish 1-5
Spanish classes for beginners, intermediate, or experienced speakers starting from Kinder through Jr. High School. 
Using immersion (speaking Spanish in Spanish) and our structured leveled curriculum your child will learn how to speak, read, and write as they move forward in their language learning journey. We make it easy to choose the most appropriate leveled class to challenge your child and help them become a Spanish speaker, guarenteed!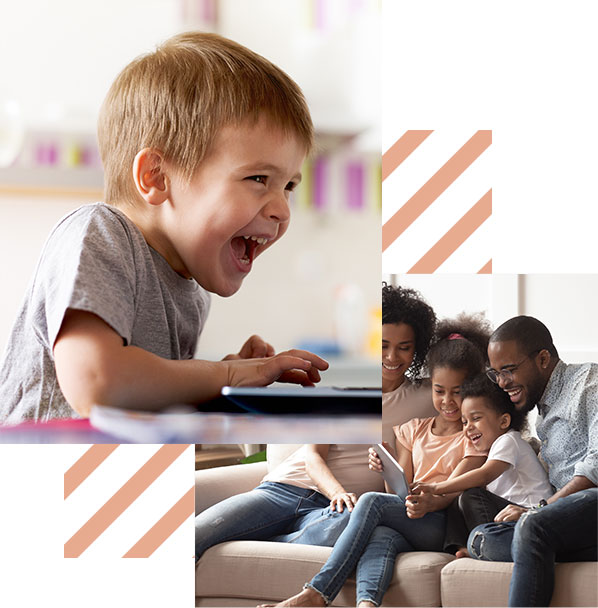 For Jr. High School and High School
High School
High School Spanish 1 and 2
These full year immersion Spanish courses introduce students to the culture and history of the Spanish language while actively developing students' ability to comprehend, speak, read, and write in Spanish. 
Each class begins with an opening conversational activity, proceeds to vocabulary development, grammar instruction, a reading activity, and targeted pronunciation practice.  Students complete interactive group activities focusing on speaking skills, reading comprehension, and writing tasks.
Free Assessment
Not sure which level your student should take?
Have questions? - Get answers!
$99/mo for 2 day per week classes
$149/mo for 4 day per week classes
30 power packed minutes!
Our teachers are experts at using immersion instruction to maximize your time.
Siblings are welcome to join the same class under 1 tuition.
Note – Some students may not effectively work together or need differing levels of Spanish.  In these cases we suggest you schedule separate classes. Your teacher can help you with this.
One level of Spanish will be taught in each class.
Please book separate classes for each level of student.
If you have beginner, intermediate or advanced students, your My Spanish Journey certified teacher will recommend you consider separate sessions for each student.
In order to be effective in each session we do not instruct more than one level.
Yes!
My Spanish Journey has a published and tested a 6 level Spanish curriculum that ranges from grades PreK-12.
Each level builds into the next helping students develop speaking, reading and writing language skill.
Of course! – Instructors are available via Remind to answer any questions you may have.
Testimonials
Don't take our word for it. Take theirs.
Katie A.
Parent

"The friendships my son has with his My Spanish Journey classmates have been so valuable. He has been encouraged and supported every step of the way with compassionate, highly trained instructors who gently guide him toward an acceptance of other cultures with the goal of building a global citizen."
Jenny W.
Parent

"Our children love their My Spanish Journey online classes. After one week, our five and seven year olds are speaking Spanish around our home. The classes are interesting and engaging. I appreciate the fun, creative, and knowledgeable teachers."
Lauren
My Spanish Journey teacher

"I am so excited to offer students these brand new classes! Staying engaged over the summer is essential, but as always, we wanted to make it FUN. My goal is that our students look forward to these lessons and that they feel more laid-back than school, because they're having such a great time."
Lisa B.
Parent

"The magic of My Spanish Journey is that the children not only learn Spanish—they learn how to apply their language skills in a real-world setting."
Mindy M.
Parent

"Thank you, My Spanish Journey, for immersion style learning. And thank you for providing such high quality teachers."
Deanna H.
Parent

"As PTC President for the past two years and current board member, I have received consistent positive feedback from parents and faculty regarding My Spanish Journey and the value this program brings to the kids."
Laurel M.
Student

"I feel very lucky that I was able to be a student in your program for so long as well as go to Costa Rica with the My Spanish Journey Team. I know my life wouldn't be the same if I had not been in My Spanish Journey. This year I took a Spanish literature class and read my first Spanish novel called Primera Memoria and I started translating documents for an immigration lawyer in Sante Fe! I am now planning to minor in Spanish, hopefully keep translating, and study abroad to keep learning. I can't thank My Spanish Journey enough!"
Annie L.
Student

"Thank you for your teaching and encouragement. Thanks to My Spanish Journey, I was able to test into Spanish 3 freshman year and take AP 4 and AP Literature my Sophomore year and Junior year, and I got a 4 and a 5 on both exams! I really enjoyed taking the classes, especially literature, and I wouldn't have gotten to take them if it weren't for your fun classes!"
Jenny W.
Parent

"Our children love their My Spanish Journey online classes. We were skeptical but willing to give it a try. After one week, our five and seven year olds are speaking Spanish around our home. The classes are interesting and engaging. I appreciate the fun, creative, and knowledgeable teachers. Thank you!"
Kali H.
Parent

"We love My Spanish Journey! I can't believe how well my son and daughter are doing in Spanish class. So glad I found the program! I highly recommend!"
Risk Free Money Back Guarantee
Try a class for 1 week and if you don't think we are a good fit for your child, we'll give you a 100% refund.
Get Started
It's easy to join 15,000+ other kids who have learned to speak fluent Spanish.